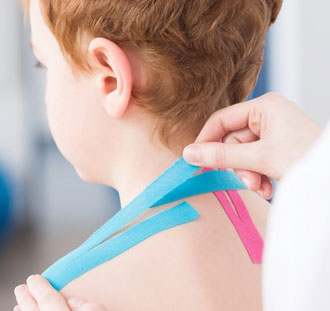 Kinesio taping
---
This method of treatment was developed 30 years ago .
It is designed to facilitate the body's natural healing process while allowing support and stability to muscles and joints without restricting the body's range of motion.
It successfully treats a variety of conditions in kids.
This method is being used by occupational therapists and physical therapists .
BENEFITS OF KINESIO TAPING
---
Muscle facilitation
Muscle alignment
Improvement of joint position
Stabilization of a joint
Improvement of function
WHAT IS KINESIO TAPE?
---
It is made of 100 % cotton and has elasticity
It is free of latex
It is heat sensitive
It allows free movement and doesn't restrict joints
It can be easily removed while showering or in bath
"DONOT" TAPE CONDITIONS
---
Open wounds
Fragile skin
Poor skin integrity
Abrasions
Tape allergies
"DO" TAPE CONDITIONS
---
1. SPECIFIC DIAGNOSTIC CONDITION
Open wounds
Fragile skin
Poor skin integrity
Abrasions
Tape allergies
2. Trunk
Trunk extension assist
Abdominals
Lattismus dorsi assist
3. Lower limb
Quadriceps assist
knee stabilization
Hamstring taping( Pull & Relaxation)
knee hyperextension
many more conditions
4. Upper limb
Shoulder stabilization
Biceps assist
Triceps assist
Finger extension assist
Upper extremity postural alignment
5. Head and neck
Taping for cervical alignment
Facial weakness
Lip closure
Jaw stability