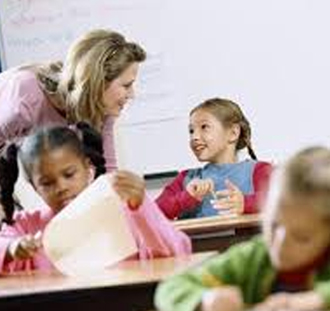 Shadow Teaching
---
Teachers deal with many students through their careers, so encountering a child with special needs is virtually inevitable. However, a teacher may not fully understand the student's disability. When this happens, a shadow teacher is extremely helpful. If you are a teacher or parent involved with a child who has a learning disability, a shadow teacher is something you should definitely know.
Definition
---
A shadow teacher is an educational assistant who works directly with a single special needs child his preschool and elementary school years.
These assistants understand a variety of learning disabilities and how to handle them accordingly. Providing a shadow teacher allows the child to attend a mainstream class while receiving the extra attention that he needs. Shadow teachers are extensively trained to help the student interact with others and to assist with the child's schoolwork.
Benefits
---
A shadow teacher's services are very beneficial and can increase the child's quality of learning and overall classroom experience. These experts help the child focus, communicate, participate in class, socialize, show courtesy to others and control her behavior. Shadow teachers help special needs students learn independence, as well. Although regular teachers are instrumental, they might not possess the specific training that a shadow teacher has.
Training
---
In order to become a shadow teacher, certain courses are required. These courses provide specific information about many types of disabilities and how to deal with them. These may include lessons on Attention Deficit Disorder, autism and dyslexia. Additionally, the training specifically instructs shadow teachers on how different subjects should be taught, depending on the disability.
Check the Qualifications
---
Shadow teachers should have either an associate arts or associate sciences degree in early childhood education or child development, a degree in an area such as special education, or an early childhood education certification.
The role of a shadow teacher is to support the student that needs Optimal Learning, OL, support, in his/her school academics by helping fill in the gaps in the learning process, to help the student build self-confidence as well as to promote positive interaction in the classroom by helping the student focus on important concepts, and over all help the student to develop academic and social skills.
The role of the shadow teacher is to provide additional support, throughout the school day, academically and psychologically, to those students enrolled in the Optimal Learning (OL) program that need this additional support. The shadow teacher supports the student in many ways, including filling in the gaps that exist in the learning process, helping the student build self confidence, promoting interaction in the classroom, and ensuring the student stays focused in the classroom. The shadow teacher also helps the student be prepared and organized for class, helps the student with the approaches to learning and reminds him/her to be a responsible and committed student.
The student benefits from the shadow teacher because …
The student follows regular classroom instruction and interaction with his/her peers.
The student learns to build on his/her strengths and not his/her weaknesses.
The student receives educational enrichment.
The school benefits by the shadow teacher because there is a collaborative effort to meet the special needs of the particular student. The parents benefit because they have daily communication with an adult who knows what is going on in school and what events are taking place. Additionally, the parents have a sense of safety and security for their child.
The role of the shadow teacher in the classroom is to help his/her student:
Stay focused
Participate appropriately in class
Notify the teacher if he does not understand the material
Function in an environment where there are many distractions
Be positive in his/her approach to new tasks; and helping him/her to gain self control.
Improve communication by maintaining eye contact
Encouraging him/her to ask for help from his/her teachers
Having him/her share special interests with the children;
Helping him/her to respond appropriately to his/her classmates in social situations;
Seeing that he/she compliments his peers when appropriate
Prompting him/her to initiate discussions with his/her peers
Encouraging him/her to learn the interests of his/her classmates.
Every child is unique; therefore, the approach and teaching methods and techniques used by each shadow teacher with each specific student will differ.