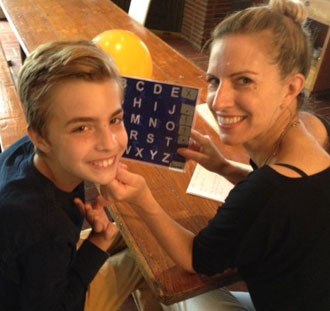 Rapid Prompting Method (RPM)
---
The rapid prompting method (RPM) is a prompting technique used by some parents and educators in an attempt to help their (often non-speaking) child or student with autism or other disabilities to communicate through pointing, typing or writing.
RPM is a "low-tech approach that requires only an instructor, student, paper, and pencil"
Using a "teach-ask" protocol, the facilitator presents the student with a concept (i.e., The chair is yellow.), then immediately follows up with a question (i.e., "What color is the chair?").
The student is then given prompts (i.e., two pieces of paper, one yellow, one black) to represent the answer.
This procedure is repeated, using a combination of physical prompts provided by the facilitator to elicit a response.
Prompts may include physical (i.e. words written on paper), auditory (i.e. the sound of paper tearing), verbal (i.e. spoken directives), and visual (i.e. gestures by the facilitator). Choices move from two, three, to four and so on, with increased difficulty.
Eventually, students move to spelling and letter boards which the facilitator holds during the sessions.
RPM literature indicates that, along with autism, the techniques may be used effectively with people exhibiting the following: Fragile X syndrome, blindness, deafness, Angelman syndrome, Down syndrome, Williams syndrome, and Prader-Willi syndrome.